"Mosaic is the most durable picture that exist.
Other paintings fade with time, but a mosaic increases
with brightness as years go on"
Giani Vasari, 16th Century Artist
Mosaics are definitely an ancient art. In a modern world, however, this medium has been taken to a new level. Choose a classic stone, an original Byzantine tile, or my choice, stained glass. Available in every color imaginable, glass can bring a whole new light and life into your space. Let your mind be free!

Imagine a beautiful fountain backdrop, or an exquisite new kitchen back splash design. Perhaps a sensual sunken tub mosaic wrap, exquisite stairway or better yet, a striking pool bottom mural. The sky's the limit!
Art Gallery Mosaics - Glass Mosaics - Fine Art Mosaic Design - Florida Mosaic Artist

For Email Marketing you can trust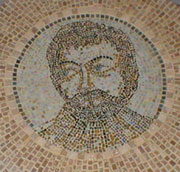 For those of you who are architectural developers and designers, think about a radiant mosaic glistening on a courtyard wall or statuesque stone formations to accent your building; setting it apart from the rest, thereby allowing the building owner's to relish in the beauty and craftsmanship mosaics can bring for a lifetime to come. Remember, there are no small commissions! Contact Todd Michael for a personal consultation.